Metallurgical Instruments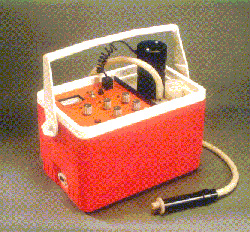 We proudly introduce ourselves as a manufacturer of electrolytic Polisher / etcher INSIPOL 2000 since 1998. Electrolytic Polishing is widely used in the Metallography of stainless steel, Copper alloys, Aluminum alloys, Magnesium, Zirconium and other metals that are difficult to polish by conventional mechanical methods.
INSIPOL 2000 is unique equipment designed & manufactured indigenously by taking care of all the metallurgical aspects, standards & requirements under the guidance of Well-experienced & established metallurgist working in the field of failure investigation & damage assessment. This equipment can be used for IGC-Practice A at site as per ASTM A 262-A. INSIPOL 2000 can be supplied along with Portable Grinder, Portable Microscope and Replica Kit for In Situ Metallography.
INSIPOL 2000 – Can polish Metallographic samples within 30 seconds after mechanical polishing up to 600 grit. It also eliminates the operation of Diamond Polishing / Alumina Polishing. It can also be used as laboratory model, over and above field studies.
INSIPOL 2000 Electrolytic Polishing & Etching equipment is designed considering laminer flow of electrolyte specified by the standards for the laboratory instruments. This equipment accommodates both the methods Flow type Method – i.e. circulatory flow of liquid & Tampon type i.e. local electrolytic polishingso it can be termed as Universal Electrolytic Polisher both for site as well as in the laboratory.